To our Patients,

We understand & deeply respect that you may be concerned about Coronavirus infection in public places even at our state-of-the-art, sterilized office. At Dentistry at the Promenade, I want to assure you that our office has even further heightened our already extremely rigid sterilization safeguard standards such as to virtually eliminate the possibility of disease transmission to our outstanding team…or you, our valued patient. It is just one more way that we can show our care for you & everyone in our community. We very much look forward to seeing you, your family & your friends very soon.
Sincerely,
Dentistry at the Promenade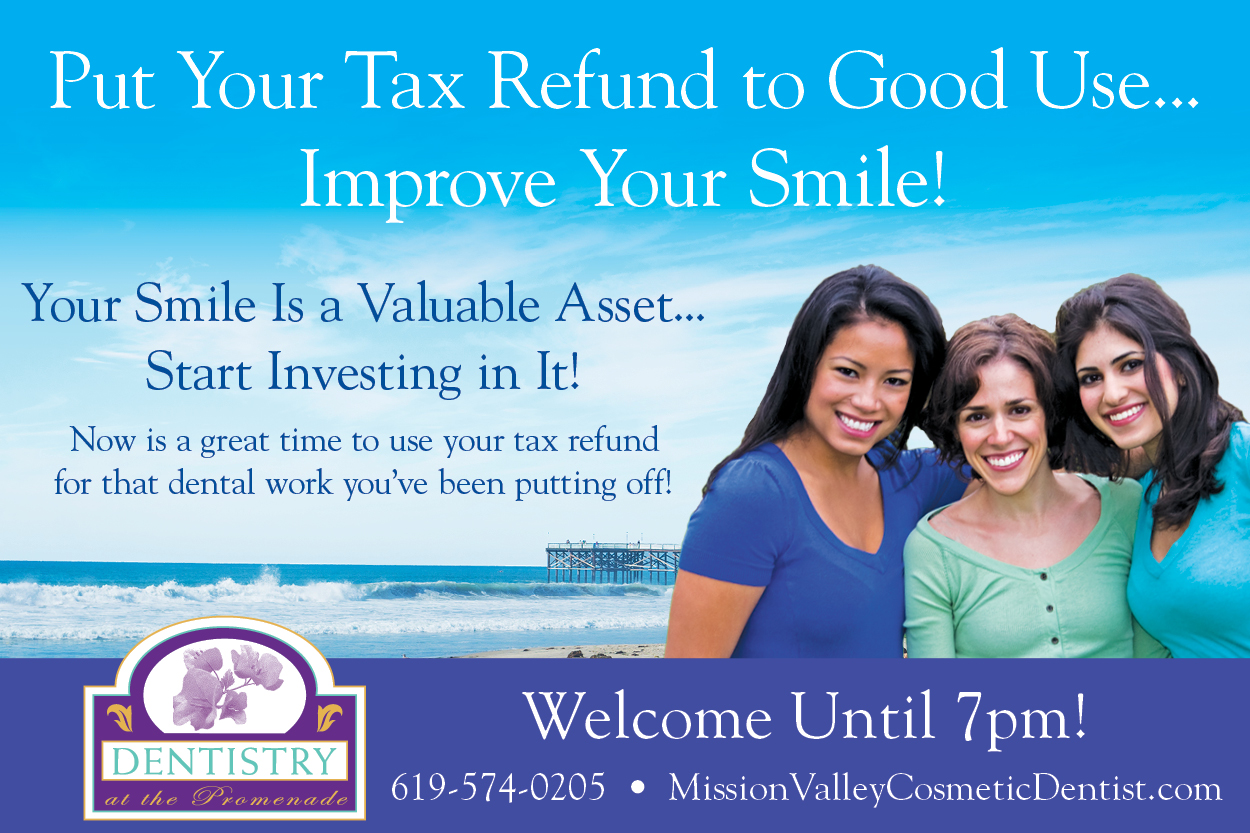 Dentistry at the Promenade
General Dentists & Cosmetic Dentists located in Mission Valley, San Diego, CA
Dentistry at the Promenade offers top-quality general dentistry care in a convenient, centrally located office in the Mission Valley area of San Diego, California. Estela Caeg-Bustamante, DMD, and the team emphasize truly personalized dental care, which means they always spend individual time with patients to help them understand all their options for a healthy, gorgeous smile.
Dentistry at the Promenade offers teeth cleanings, tooth-colored fillings, Invisalign®, crowns, bridges, dentures, veneers, and more to help patients maintain and restore their smile. The team uses state-of-the-art equipment, including digital X-rays, to diagnose issues and plan treatments in the most effective way.
The team also offers children's cleanings and visual exams to help kids get familiarized with dental care. With children, the goal is to establish a pleasant, comfortable association with dental care early in life. Kids who need procedures then see a pediatric dentist for that care.
The Dentistry at the Promenade team understands budget concerns, and they always welcome insurance and help patients maximize it. To make dental care convenient for all, Dentistry at the Promenade has office hours as late at 7 PM.
Dentistry at the Promenade currently welcomes new patients in their comfortable Mission Valley office.
No Insurance?
We offer in-house benefits plan available to patients without insurance. We do whatever it takes to minimize your out of pocket costs! Call us to find out more about this program.
Work Late?
We provide late hours Monday - Wednesday to accommodate your busy schedule. Book an appointment today!
Insurance
Here at Dentistry at the Promenade we are happy to accept most insurance plans. Please call our office with any questions you may have.
Words from our patients
"I am happy to give Dr. Bustamante a 5 star rating. She has been my dentist for the past 6 years. She and her staff are very professional and use the latest technology."

"Everyone from the front desk to the dentists are super friendly and make an unpleasant experience into a pleasant experience."

"They've really educated me on how to maintain the health and longevity of my teeth and gums. This is priceless!"
Location
Dentistry at the Promenade
8555 Station Village Way, Suite A
Mission Valley
San Diego
,
CA
92108
Phone:
619-574-0205
Fax:
619-574-0537